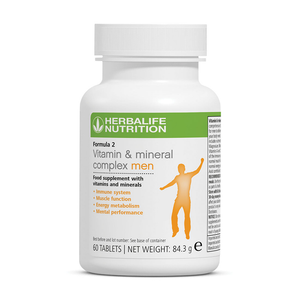 Discover Herbalife Formula 2 Vitamin & Mineral Complex, your easy route to 24 nutrients to support what your body needs. It contains essential vitamins and minerals in just the right amounts, to target and nourish your daily health needs.
Key Benefits
Tailored to the individual health needs of men
Provides the optimal amount of key vitamins and minerals that your body needs
Developed by experts in nutrition and backed by proven science
Formulated to work in conjunction with your favourite Herbalife Formula 1 shake
Contains Vitamin's A & C which contribute to the normal function of the immune system
Contains Magnesium which contributes to normal muscle function
Contains Riboflavin which contributes to normal energy-yielding metabolism
Contains Pantothenic acid which contributes to normal mental performance

Why is it important to take a gender-specific multivitamin?

With differences in body size, metabolism and physiology, men need different levels of vitamins and minerals to enjoy optimal nutrition. For example: depending on the country, up to 4 in every 10 men aren't getting enough vitamin A, and require more vitamin A than women. [Sources: Mensink et al., 2013; EFSA, 2015]
How To Use
Take 1 to 2 tablets daily with food.
Take 1 tablet daily if you are consuming 2 shakes per day
Take 2 tablets daily if you are consuming 1 shake per day
Nutritional Information
Click below to see nutritional information and label:
Herbalife Formula 2 - Vitamin & Mineral Complex Men's (60 tablets)
Great Product
Really helped me with weight loss
Love these little beauties
Been talking these for a while now and I absolutely love them , I only take one a day but I feel so much better for it
Great Product
Really helped me with weight loss
Love these little beauties
Been talking these for a while now and I absolutely love them , I only take one a day but I feel so much better for it