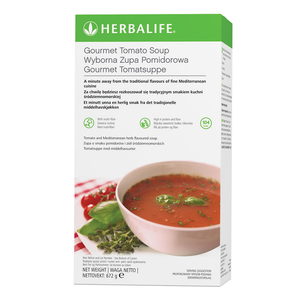 Gourmet Tomato Soup is a savoury and nutritious instant snack with Mediterranean herbs for a delicious flavour. Approximately 104 calories per serving, it's a great guilt-free snack.
Key Benefits
Savoury and nutritious instant snack
21 servings per box
104 kcal per serving, ideal to manage your calories
High in protein 7g, to help you build lean muscle mass
High in fibre 3.2g, to help towards your daily fibre intake
With Mediterranean herbs for delicious flavour
Simply mix with water and enjoy as a healthy hot or cold snack


How To Use
Mix 2½ tablespoons (32g) with 200ml of hot or cold water. When using the Herbalife spoon, use 2 large and 2 small levelled scoops.
Nutritional Information
Click below to see nutritional information and label:
Herbalife Gourmet Tomato Protein Soup
Great
Great winter soup. Really tasty.
Better than what I thought
I ordered the soup the other week and I have to say I was pleasantly surprised who good it actually is, would definitely recommend it,
Great
Great winter soup. Really tasty.
Better than what I thought
I ordered the soup the other week and I have to say I was pleasantly surprised who good it actually is, would definitely recommend it,