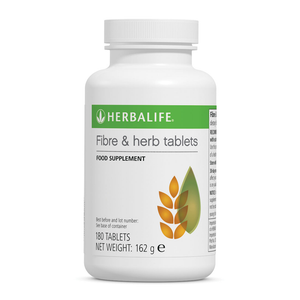 Typical Western diets are low in fibre. The average adult consumption of fibre is typically around 17g per day in Europe, and yet governments recommend a daily intake of 24 to 30g.
Herbalife Fibre & Herb contains oat fibre, to give your daily fibre intake a boost, along with parsley, orange blossom, hibiscus flower and fennel seed powder.
Key Benefits
Fibre supplement to help you reach the recommended daily fibre intake of 25g per day
Contains oat fibre together with parsley
Provides 3g fibre per daily recommended serving
How To Use
Take two tablets with each meal, three times per day to provide you with 3g of Fiber. This product may be used in conjunction with Herbalife Formula 1 Nutritional Shake Mix and Herbalife Formula 2 Multivitamin Complex.
Nutritional Information
Click below to see nutritional information and label:
Herbalife Fibre & Herb Tablets
great product, great service
great product and fast delivery
great product, great service
great product and fast delivery