How To Make The Perfect Herbalife Formula 1 Shake: Ultimate Guide
When prepared the right way, Formula 1 Shakes are so delicious. So delicious that you will often think to yourself "how is this even healthy?!…"

We've trialled and tested virtually every possible way of making Herbalife Formula 1 Shake and came up with this ultimate guide, so you can find the best formula for you!

We have also included our essential dos and don'ts when preparing your shake.

Let's dive right in…

1. Blender vs Shaker
Let's start with the question "Should I use a blender or a shaker when preparing my Formula 1 Shake?"

Shaker is convenient as you can simply add all the ingredients, shake it and go. However, the mixability of shaker can hardly compare with a powerful blender. If you don't mix the powder well, you may end up with a lumpy shake which is never good.

Pro Tip. With shaker make sure to ALWAYS add liquid first and then your powder to minimise the chance of lumping. Give it a good, big shake.

We love using a blender because you can achieve the super creamy and frothy consistency. Just make sure your blender has enough power to crush ice which we recommend you add (more at section 6).
Verdict. Always use blender over shaker when possible to achieve the best result. If you want to take your shake on the go, prepare it in a blender and the transfer it to a shaker.

2. Milk vs Milk Alternative vs PDM
Now, let's talk about the second component to making the perfect Herbalife shake.

One of our most common questions asked by our customers is "Can you prepare Herbalife Formula 1 Shake with just water?"

The simple answer is NO. You can't prepare Formula 1 shake with just water as (#1) it wouldn't taste good and (#2) you would leave out the protein component from the shake which is really important to provide your body with all the nutrients it needs.

You have the 3 following options:
Use regular milk

Use milk alternative (almond milk, soy milk, oat milk...)

Use Protein Drink Mix (PDM) + water
Thus, you can only prepare F1 shake with water if you use PDM as well.

Which option should you use for the best taste and result?
Milk Alternative. All of the Formula 1 Shake powders are now fully vegan. So if you're following a vegan diet, you will need to use 250ml - 300ml of milk alternative to make the final product suit your dietary requirements.

If you're not vegan, it may be better for you to use one of the other options as milk alternatives are generally lower in protein.

Regular Milk. By standard, Formula 1 Shake can be prepared with 250ml - 300ml of semi-skimmed milk. Ideally use organic milk to ensure it's as natural as possible.

However, regular milk has quite a bit of sugar and doesn't provide as much protein as the last option which is Protein Drink Mix + water.

Protein Drink Mix = The Best Option. Herbalife Protein Drink Mix is a whey-based (not vegan) alternative to milk to give your shake more protein, less sugar and much creamier taste. It's prepared with 300ml - 400ml of water, making it really convenient when on the go. (you don't want to be carrying with you a pint of milk right?)

From the image below you can see the exact comparison between Semi-skimmed milk, unsweetened almond milk and Protein Drink Mix. You probably can clearly tell the winner.
3. How much liquid to use?
We recommend the following ranges. Use less liquid if you like you shake to be thicker. If you enjoy more liquid shakes, use the upper range:

250ml - 350ml of milk or milk alternative

2 scoops of PDM + 300ml - 400ml of water
Try out different amounts the first a few days to find the best consistency for you.

4. Picking the Best Formula 1 Flavours

"What are the best Formula 1 flavours?" Formula 1 comes in so many incredible flavours. This can make it challenging to decide which ones to pick! Here is a description of all the flavours available (in the UK) so you can choose the right one for you:

Vanilla Cream

- great natural taste, versatile and fantastic for mixing with fruit and other flavours

Smooth Chocolate

- if you're a chocolate lover, you will love this one too


Banana Cream

- exactly what it says on the box, sweet and creamy banana taste


Strawberry Delight

- if you're a fan of the classic creamy and delicious strawberry milkshake, this one is for you!


Summer Berries

- fruity, smoothie-like flavour


Mint Chocolate

- sweet, chocolaty and refreshing


Cookie Crunch

- smooth vanilla base with chocolaty bits


Café Latte

- for all the coffee lovers! Also great when mixed with Smooth Chocolate


Spiced Apple

- sweet, fragrant. Tastes like Christmas!

Pro Tip. Combine two flavours together (1 scoop each) to create your unique shake. Some of our favourite combos are:

Banana Cream + Smooth Chocolate


Vanilla Cream + Strawberry Delight

Smooth Chocolate + Café Latte
5. Measuring Your Ingredients

Measuring all ingredients correctly is important to achieve a consistent nutritional value day in, day out.

Formula 1



For 1 shake, use 2 tablespoons or 26g of Formula 1 powder. You can also use the Herbalife Measuring Spoon which makes things so much easier.

Use levelled Herbalife Spoon or heaped regular tablespoon. Find full Herbalife Spoon tutorial here.
Liquids



To measure liquids in millilitres you can use the measuring scale on your shaker, blender cap or any other container with a scale.

Protein Drink Mix



To measure Protein Drink Mix use one of the following:

2 large Herbalife spoons

2 heaped tablespoons


28 grams
6. Keep it cool

This may be subjective to you but adding a few cubes of ice into your shake can make so much difference. If you like the icy, milkshake-like consistency, you will love your F1 shake with ice!

You definitely want to use a blender for this to crush the ice into a smooth texture.

Using ice will also make your shake bigger in volume making it ultimately more filling without adding any calories.

7. know your marcos

Our customers often ask "How many calories are in a Formula 1 shake?".

Knowing the nutritional values is important to understand how much calories, protein etc... you're getting in each serving.

So here is a breakdown for each shake variation:




Cals

Protein

Carbs

Fat

Fibre

Sugar

2 scoops of F1
+ semi-skimmed milk (250ml)

227

18g

25g

6.6g

5g

21g

2 scoops of F1
+ unsweetened almond milk (250ml)


125

10g

14g

4g

5g

9g

2 scoops of F1
+ 2 scoops of PDM + water


212

24g

16g

5g

5g

10g
Note. When using a milk alternative, the macronutrients will depends on what type of milk you use. If you want to achieve a high protein content you can use fortified soy milk.

8. spice things up

Don't be afraid to experiment by adding other ingredients into your shake. You can add fruit, nuts, peanut butter, greens or anything else you like. Once again, you will want to use a blender for this to combine everything together. Here are a few recipes to kickstart your imagination.

Keep in mind that adding other ingredients will change (increase) the calories of your shake. So always make sure you're adding ingredients aligned with your goal.

to wrap it up

We wanted to create a comprehensive Formula 1 shake guide to give you all the answers in one place. We hope you found what you need to make the perfect shake that suits both your goal and your taste buds!

Find all products mentioned in this article below and if you need any help, feel free to reach out to us anytime.
Related Posts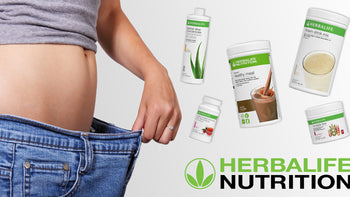 With over 50 Herbalife products to choose from, which ones should you select for the best results?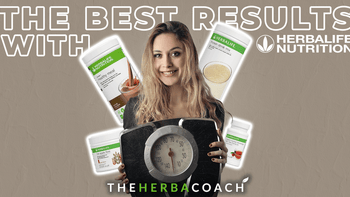 Whether it's your first time using Herbalife or you've been using the products for a while, this article outlines the key factors that contribute to your Herbalife weight loss success.